Safety Information
The following simple guidelines will help to make your visit a safe and enjoyable one.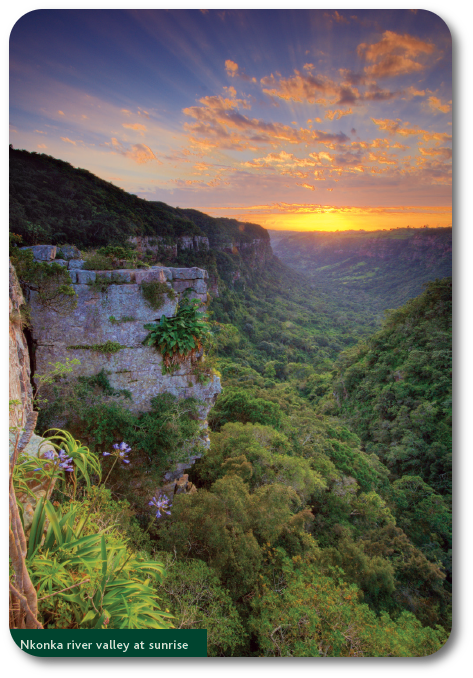 1) Trails are well marked but conditions can vary and some sections are steep and difficult. You are advised to:
not walk on your own
stay on the marked trails
wear good walking shoes
carry sufficient drinking water
wear a hat
not walk on your own
stay on the marked trails
wear good walking shoes
carry sufficient drinking water
wear a hat
2) Do not attempt to cross any stream in flood – rather turn back to your starting point. Sections of the reserve may be closed due to unsafe conditions during or immediately after heavy rains.
3) In wet weather the paths can be muddy and rocks very slippery – exercise extra caution to prevent injuries
4) Many viewpoints are on unfenced cliff edges – exercise extreme caution and supervise children at all times.
5) Rock-climbers must pay the entrance fee and complete the Climbing Register at the Kloof Falls Picnic site before climbing.
6) Walking in the reserve is safe but isolated incidents can never be excluded as they cannot anywhere in South Africa. Normal precautions when walking in isolated areas apply. Preferably do not walk alone.
7) You are required to pay the entry fee at Kloof Falls Picnic Site or the Nkutu Picnic Site (open on weekends only). Entry at any point other than an official point is prohibited. You may be asked to produce your entry receipt by a uniformed Field Ranger or Honorary Officer, who are also authorised to collect an entry fee from you. Please request a valid entry ticket when paying your entry fee.
Entry fees help maintain and protect the trails and natural treasures such as this reserve and to provide manpower for rescues and assistance in the case of an emergency.
Please help to keep our natural areas safe.
---
Please Note: The reserve is a Proclaimed Protected Area in terms of the National Environmental Management: Protected Areas Act, 2003. (Act No. 57 of 2003). Please adhere to the Reserve Rules as displayed at the entrance gates to the Krantzkloof Nature Reserve. Failure to adhere to these Rules may result in severe penalties.
---
PLEASE DO NOT LITTER
LEAVE ONLY YOUR FOOTPRINTS
---
INDEMNITY
The KwaZulu-Natal Nature Conservation Board and the Kwazulu-Natal Conservation Service (Trading as Ezemvelo KZN Wildlife) does not accept the responsibility for any death, injury or illness sustained or suffered by any persons, or theft or loss of or damage to any property occurring within or arising from a visit to parks or resorts under their control, however caused and allegedly due the negligence of the Service or any of their employees or arising from the use of any facilities supplied or made available.